Brochure Display Boards
Pamphlet holders

At our store, we offer an extensive selection of Brochure and Magazine Holders to meet your needs. Our assortment includes various options such as countertop displays, wall-mounted brochure displays, rotating leaflet displays, chrome wire brochure displays, and wall-mounted business card display systems. Additionally, we carry a range of materials including acrylic, wire, and magazine holders to ensure that you can find the perfect Literature Display for your countertop. With our selection and competitive pricing, you're sure to find the right Brochure Holder for your business.

Full-View Brochure Display Boards:

Our selection of Full-View Wall Mounted Brochure Display Systems comes in various styles and sizes, including DL, A5, and A4 options. Additionally, you can pair these systems with business card holders to create a cohesive and professional appearance for your office. By utilizing these display systems, you can easily organize and make your brochures readily accessible to your customers.

Lit Loc® Brochure Display System:

Our Lit Loc® Wall Mounted Brochure Display System is a sleek and modern option for showcasing your product flyers, brochures, and other important information. These cascading wall brochure displays are both stylish and functional, and are simple to assemble. With our Lit Loc® system, you can create an attractive and professional display that will impress your customers.

Floating Brochure Display System:

Our Floating Brochure Display Systems are a great solution for keeping your brochures looking neat and organized. These wall-mounted units provide ample storage space while keeping each row fully visible, with no overlapping. The unit is standoff mounted on the wall using stainless steel mounts, creating a sleek and modern appearance that is 19mm off the wall.

These display systems are perfect for any type of office or commercial environment, and each unit comes fully assembled, making installation a breeze. With our Floating Brochure Display Systems, you can create an organized and professional look for your business.

Cable Suspended Brochure Systems:

Our Cable Suspended Brochure Systems are simple and effective ways to showcase brochures, pamphlets, catalogs, and other promotional materials. The kits are easy to assemble, install, and reconfigure, and come with anodized satin suspension hardware and clear acrylic pockets available in DL, A5, and A4 sizes. Perfect for any commercial or office setting.

Our Information Boards combine brochure holders, sign holders, business card holders, and photo holders into one sleek and modern board, keeping all your important information organized and easily accessible. These wall-mounted units provide ample storage space and a professional appearance for your office. Choose from a variety of styles and sizes to fit your specific needs.


Full-View DL Brochure Display Board - 30xDL




Full-View A4 Brochure Display Board - 15xA4




Full-View DL Brochure Display Board with Title for Pharmacy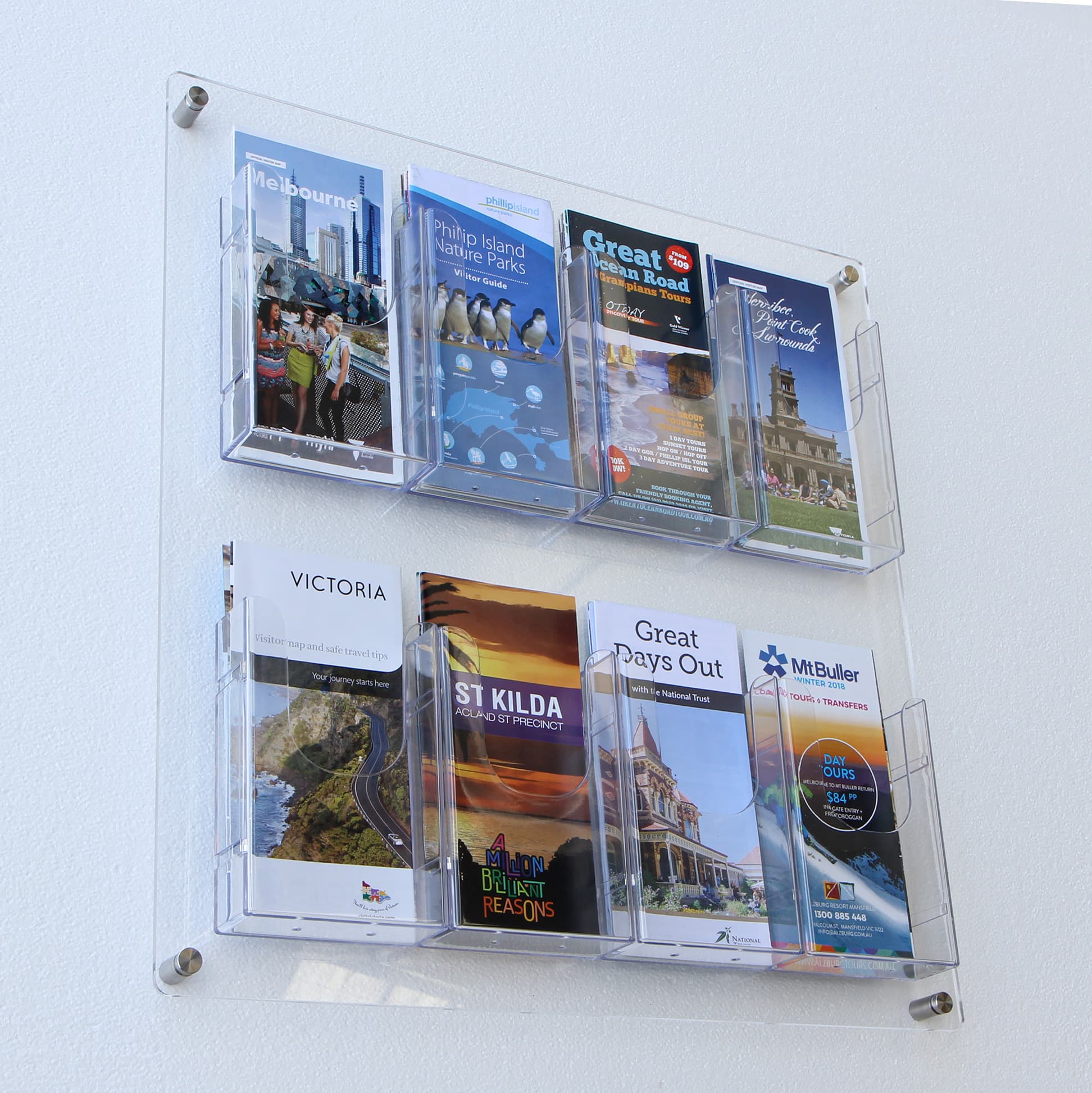 Floating Brochure Display Board - 8XDL
Floating Wall Mounted DL Brochure Display Unit - 8XDL
Lit Loc® Brochure Display Unit - 12XA4



Lit Loc® Brochure Display Unit



Lit Loc® Brochure Display Unit - 8XA4+24XDL


Lit Loc® Brochure Display Unit at Tourism Centre


Suspended Brochure Display Unit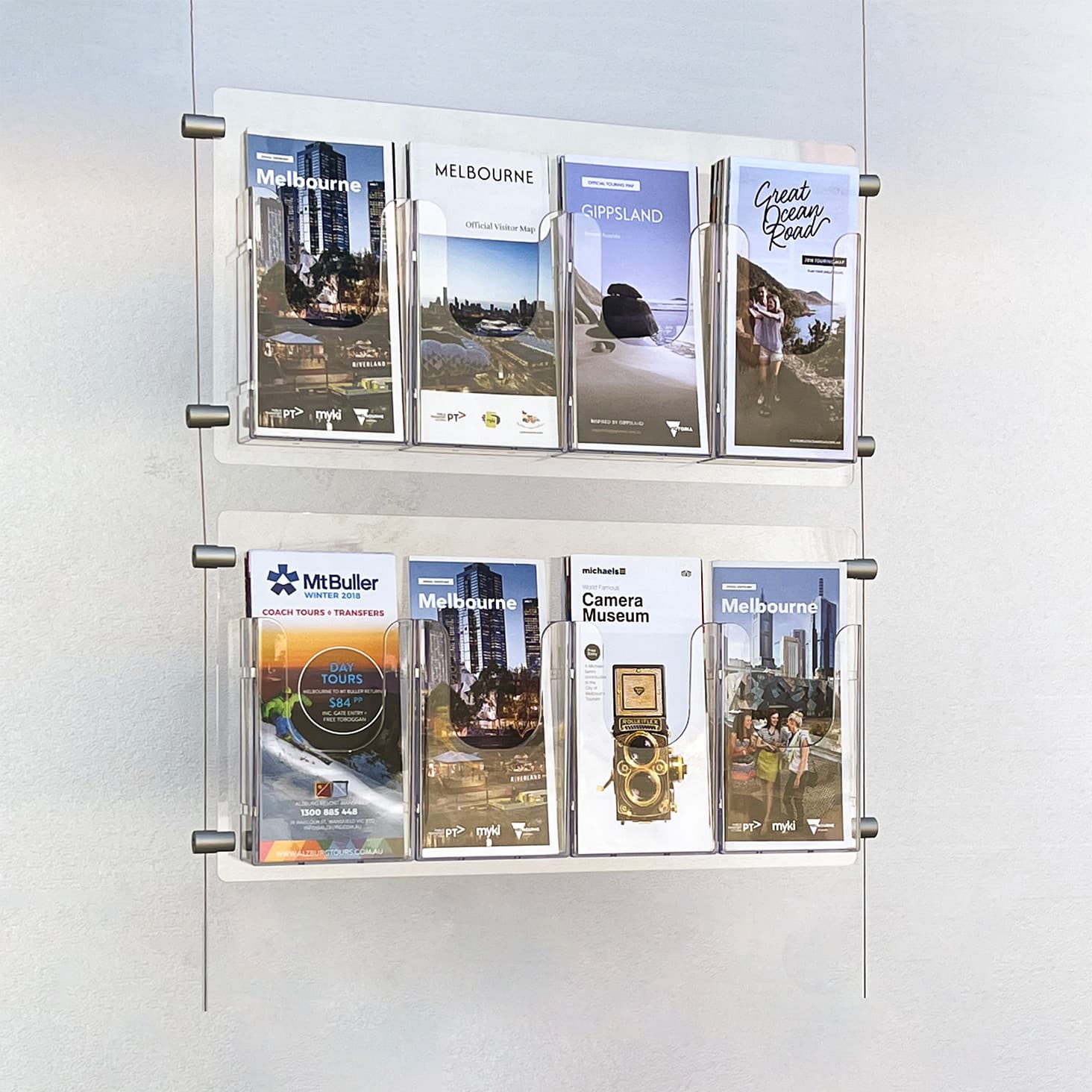 Cable Suspended Brochure Displays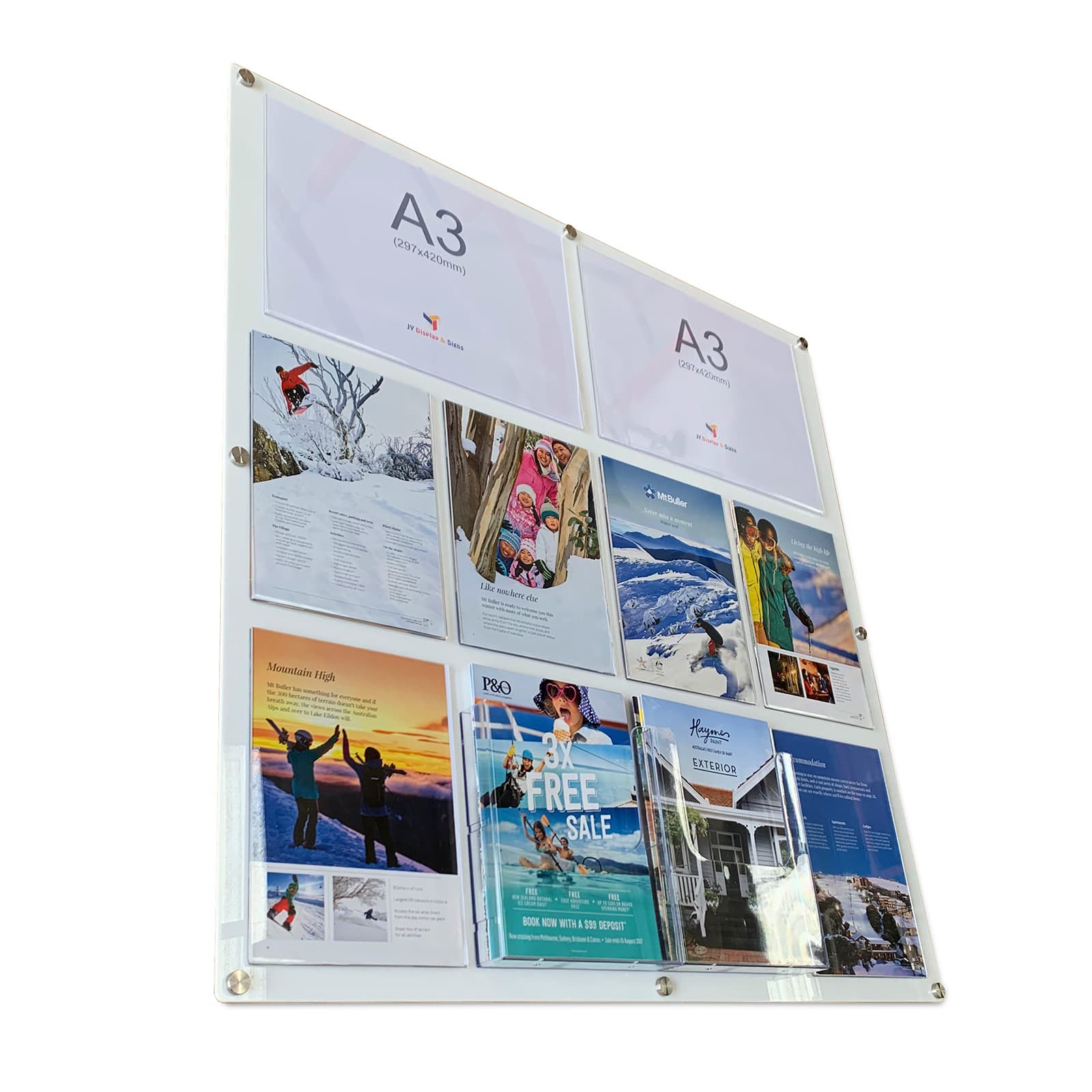 Information Board - 2 A3 Sign Holder + 6 A4 Sign Holder + 2 A4 Brochure Holder