Floating Acrylic Sign Boards
Multi-Pocket Picture boards
Information boards
Looking for a modern and stylish way to showcase your signs, photos, or information? Check out our selection of acrylic sign boards, perspex photo displays, and information boards!
Our acrylic sign boards are made up of our popular acrylic sandwich sign holders and a sturdy acrylic backing panel. The sandwich sign holders are designed to hold a poster or sign between two acrylic panels, which are then mounted onto the backing panel using sign stand-off mounts. This creates a sleek, modern design that gives your photos or signs a floating, contemporary display.
Our perspex photo displays are perfect for showcasing your favorite photos or artwork. Made from high-quality acrylic, they provide a crystal-clear display that highlights the beauty of your images. Plus, they are easy to update, so you can switch out your photos whenever you want.
Our information boards are a great choice for displaying important information, such as schedules, menus, or directions. They are available in a range of sizes and styles to fit your specific needs, and are easy to mount on walls or other surfaces.
Whether you're looking for a stylish way to display your signs, photos, or information, our acrylic sign boards, perspex photo displays, and information boards are the perfect choice. Shop our selection today and elevate your space with a modern and contemporary display!
Product Features:

Back panel crafted from 4.5mm thick acrylic, available in white, clear, or black, and flush mounted on the wall using stainless steel caps for a secure installation
Pictures or photos are displayed between two acrylic panels for a floating, modern look
Available pocket sizes include 4"x6", 5"x7", A5,8"x10",A4,and A3
Can be installed horizontally or vertically to fit your desired layout
Choose from various combinations of pocket sizes and layout options to best suit your needs
The sleek, contemporary design is perfect for enhancing the aesthetic of schools, colleges, universities, hospitals, councils, hotels, leisure clubs, and many other company reception areas
Perfect for a wide range of settings, our sign boards offer a sleek and modern display solution for your photos, signs, or information. Elevate your space with a touch of contemporary sophistication.

3xA4 Acrylic Picture Board
Keep Your Office Looking Sleek and Professional with Minimalist Acrylic Picture Displays

4 A4 Acrylic Sign Board with black background

Perspex sign board with clear acrylic sign holders and white background

Impress Your Guests with Stylish Information Boards and Stainless Steel Mounts
Elevate Your Space with Modern Acrylic Sign Boards and Floating Displays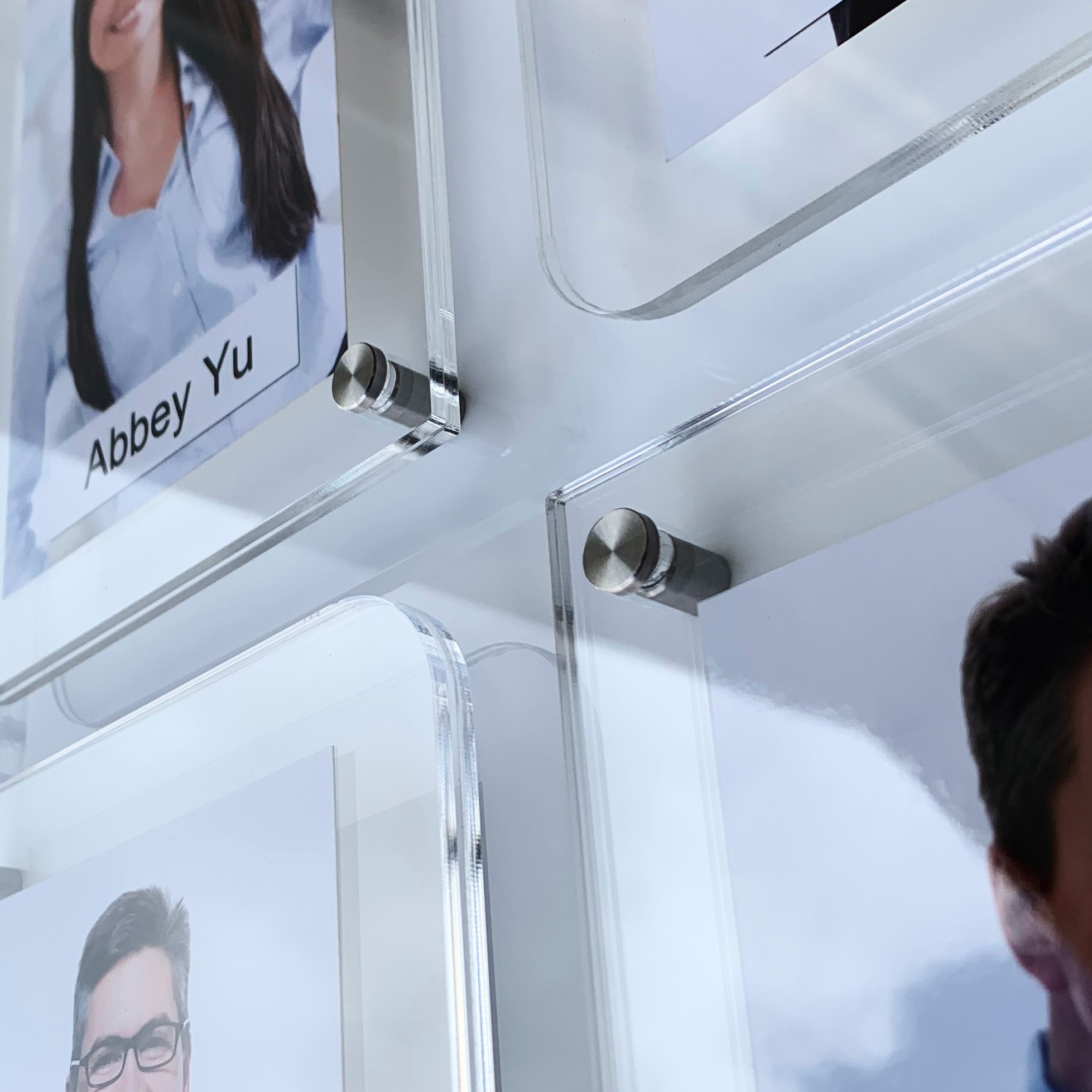 4"x6" Acrylic Photo Board
Get Noticed with Eye-catching Acrylic Sandwich Sign Holders and Easy-to-Update Designs

9 x 4"x6" Acrylic Photo Board with white background
Create a Stunning Office Display with Contemporary Multi-Pocket Picture Boards